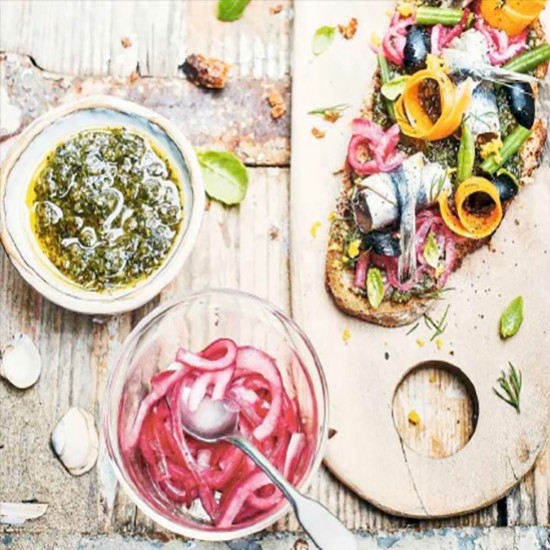 The Bagnat bread Ludovic Turac
For 4 people
Ingredients
4 slices of country bread,
8 sardine fillets,
1 grated lemon,
1 teaspoon of fennel seeds,
30 cl of pastis Henri Bardouin,
1 carrot,
50 g cooked green beans,
40 g of pitted black olives,
2 eggs,
I chopped dill, salt.
Onion condiment: 4 red onions, coarse salt, Juice of 2 lemons.
Pistou: 2 bunches of basil, 2 cloves of garlic, 30 g roasted pine nuts, 20 cl olive oil, 30 g parmesan, salt.
© photo : Une Table au sud
Preparation
"I cook my sardines with pastis, another iconic product of the region, but not just any, I take pastis Henri Bardouin, it is not too strong in alcohol and we can smell badian, sage, lemon balm".
Article published in LE PARISIEN - August 18, 2017Ludovic Turac, Une Table au sud - www.unetableausud.com
Preparation 45 mm Maceration 1 hour
Place the sardine fillets (flesh up) in a dish.
Season with salt and add lemon zest and fennel.
Keep cool for 30 minutes.
Bring the Henri Bardouin pastis to a boil and pour over the sardines.
Let cool and roll them on themselves.
With a thrifty, cut the carrot into thin slices.
Detail the beans and olives.
Cook the boiled eggs, reserve the yolk.
Mince the onions.
Cover them with coarse salt and marinate for 25 minutes.
Then rinse and sprinkle with lemon juice.
Marinate for 1 hour
Mix together the basil leaves, garlic, parmesan, pine nuts and olive oil.
Salt
Spread the pesto on slices of bread.
Spread out all the ingredients nicely, sprinkle with dill and crumbled egg yolks.
Serve without waiting.
Related products

70 cl - 45°
Pastis with a unique character: mixed from more than 65 plants and spices, it is powerful and aromatic on the palate.
Only available in France