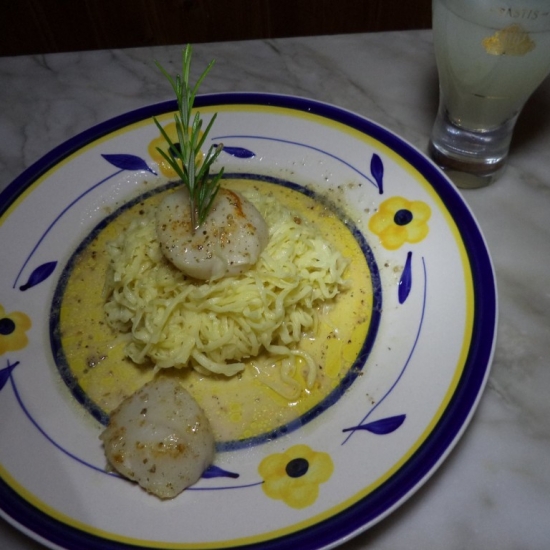 The Pasta with Pastis Henri Bardouin by Gérard Falco
For 2 people
Ingredients
1 egg
+/- 100g of flour. (Depending on the weight of the egg)
- +/- 1 cl of Pastis Henri Bardouin (According to your taste)
- 1 branch of fennel
 1 babiane (or star anise)
Preparation
Put the fennel and star anise in the water that will be used to cook the pasta. Pour the flour into a fountain on the work surface. Dig a well, add the egg, PASTIS HENRI BARDOUIN and mix with a fork. When the egg has absorbed the flour, work the dough by hand for about 10 to 15 minutes until it is compact, smooth and elastic (add water if it is dry or flour if c is too sticky). Form a ball and let stand for 1 hour at room temperature. Pass the dough a first time between the rolls spread apart, then a second time the rollers tighter, etc. 5 to 6 times in all to obtain a thin strip of dough. If necessary put flour on the dough so that it does not stick. Fold it in half before a new passage in the machine.
Rest the dough on a cloth for 10 minutes minimum. A pasta dryer can be used. Before boiling water for pasta, remove star anise and fennel from water.
Serve the pasta with a sea bream fillet cooked in olive oil, garlic, Peperoncini or with scallop walnuts that have been flown back and forth in butter, with pepper and flambéed with PASTIS HENRI BARDOUIN, or with langoustines flambées ... ..
For langoustines:
Sauté the langoustines in olive oil flavored with garlic and a small pepper for two minutes.
Flambé abundantly with the PASTIS HENRI BARDOUIN.
Remove the langoustines and keep them warm.
Add a bay leaf and two finely chopped tomatoes.
Simmer a few minutes and pour the pasta with a little cooking water.
Wait two minutes until the dough absorbs the sauce, cover with the langoustines,
Wait another two minutes, time to serve the very light PASTIS HENRI BARDOUIN that will accompany the dish, then serve.
Enjoy your meal !
© Photo :  Gérard Falco
Related products

70 cl - 45°
Pastis with a unique character: mixed from more than 65 plants and spices, it is powerful and aromatic on the palate.
Only available in France