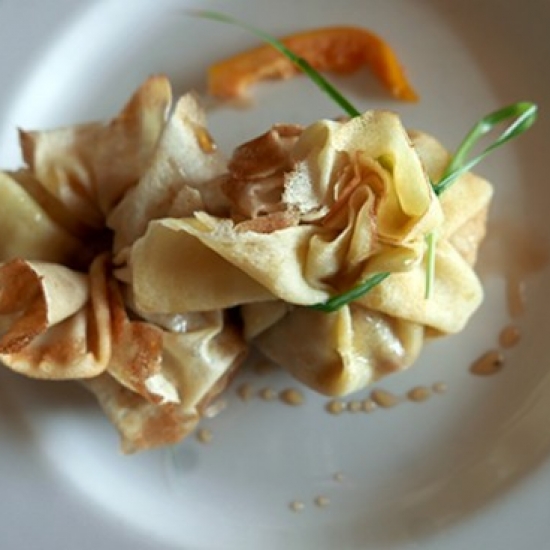 The purses of shrimps and oyster mushrooms singed in the Pastis HB
For 6 people
Ingredients
• 6 pancakes of buckwheat 
• 600g of shrimps 
• 1 onion 
• 2 handles of oyster mushrooms 
• 2 handle of cultivated mushrooms 
• 60cl of single cream 
• 2 corks of Pastis HB
• 2 stars of star anise 
• 1CS of seeds of fennel 
• olive oil 
• salt, pepper 
Preparation
Peel shrimps and cut them in small pieces. Reserve them. 
Peel, wash and slice thinly the onion. 
Wash mushrooms and cut them in pieces. 
Make warm a dash of olive oil in a frying pan and get back there the sliced thinly onion until it is translucent. 
Add mushrooms and get back every during 5 minutes. 
Add shrimps, water with Pastis HB and singe(burn,soar). Salt and pepper. 
Let cook 15 minutes over medium heat. 
During this time pay the single cream into a pan with the star anise and the seeds of fennel. Salt and pepper. 
Make warm over a low heat to make infuse spices. 
If you wish to accompany the purses of ice-cold carrots, to count 2 a person(by nobody). The recipe of the ice-cold carrots here. 
When spices infused well in the cream, to cross it in the Chinese and to maintain it in the warmth. 
Prepare the purses :
Put one pancakes with dish in front of one and put the side dish in shrimps in the center, at the rate of 2-3 CS of side dish by purse. Close the purses by returning the edge of pancakes towards the environment. To close them with the thread of cooking or an attractive rafia colored. The time to prepare every purse, to keep warm those who are already ready by putting them in a dish in an oven in 60°C. 
Raise plates: 
Pay one squinted at aniseed cream in soup plates. Put The purses in plates on the cream. 
Accompany with rice and possibly with ice-cold carrots.
Photo credit: Adobe Stock - moramora
Related products

70 cl - 45°
Pastis with a unique character: mixed from more than 65 plants and spices, it is powerful and aromatic on the palate.
Only available in France