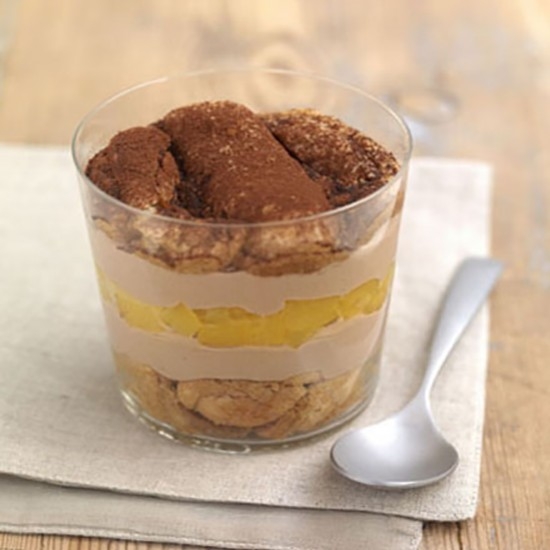 Tiramisu peach and Rinquinquin by Gil Chauveau - saveursetpassions.com
For 4 serves
Ingredients
- 26 sponge fingers
- 3 big yellow peaches
- 170 g of Nestlé dessert praline chocolate
- 100 gr of Mascarpone
- 20 cl of very cold « crème fleurette »
- 1 bowl of black coffee
- 30 g of cocoa powder
- 5 cl of RINQUINQUIN
Preparation
Préparation : 1 hour
2 hours in the fridge
One hour before, chill in the fridge a mixing bowl.
Make some strong black coffee (1 bowl). Let it cool.
Peel peaches, possibly poach a few seconds beforehand in boiling water.
Slice up in little cubes and keep the juice. Put cubes, juice and Rinquinquin in the mixing bowl.
Leave it steep for 30 minutes and stir carefully from time to time.
Melt chocolate in bain-marie then add carefully the Mascarpone to get a uniform cream. Let it cool.
Beat "crème fleurette" in solid Chantilly cream in the cooled mixing bowl and then add it carefully to the praline chocolate cream with a wooden spoon.
Leave it rest for 30 minutes in the fridge, so that the preparation becomes stronger.
Dip sponge fingers in the coffee and fill the verrine's base.
Add a first layer of cooled praline chocolate cream then a layer of peaches cubes. Add cooled praline chocolate cream and then, finish by a layer of sponge fingers.
Dust of cocoa powder and leave it rest for 2 hours in the fridge.
© photo : Nestlé Dessert
Related products

15° - 75 cl
RinQuinQuin is a white wine-based apéritif, with peaches, leaves of peach trees picked in autumn,  sugar and  alcohol.