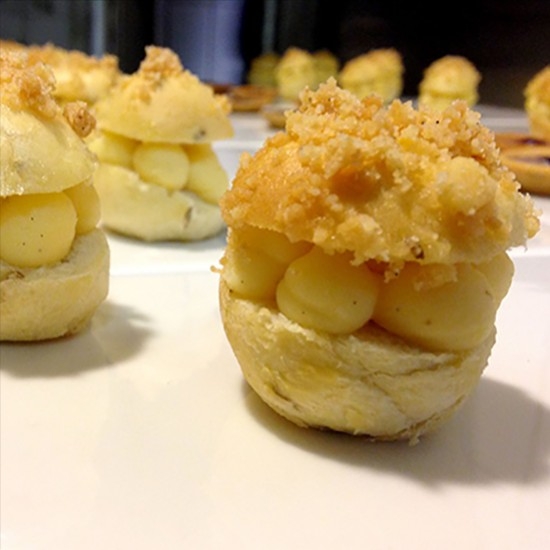 Tropézienne brioche with fennel soaked in Henri Bardouin pastis
Ingredients
Recipe created by Chef Philippe Labbé - La Tour d'Argent (Paris)
Ingredients for Tropézienne dough:
• 480g of flour
• 35g of sugar
• 22g fresh yeast
• 15g lightly roasted and ground fennel seeds
• 2.5g fleur de sel
• 5 eggs
• 1 egg yolk
• 180g butter cut into 2 cm cubes and ointment
Ingredients for Bardouin pastis syrup:
• 100g of sugar
• 250g of water
• 30g Bardouin pastis
Ingredients for grapefruit cream:
• 4 sheets of gelatine
• 125g of sugar
• 125g grapefruit juice
• 6 eggs
• The zest of 2 grapefruit
• 1 vanilla bean, cut in half and scraped
• 480g ointment butter, cut into 2 cm pieces
• 2 drops bitter grapefruit
Ingredients for orange shortbread crumble:
• 120g flour + 30g
• 50g of icing sugar
• 120g of butter
• 1 zest of orange
• 1 vanilla bean, cut in half and scraped
Finish and training:

• QS Tropézienne pie dough
• QS Bardouin pastis syrup
• QS Grapefruit Cream
• Orange shortbread crumble QS
• 10g roasted fennel seeds
Préparation
Recipe for tropical pastry:
Proceed as for brioche dough.
Recipe for Henri Bardouin Syrup:
Mix the sugar with 250 g of water in a small skillet and bring to a boil.
Cool on ice and add the pastis. Refrigerate until used.
Recipe for Grapefruit Cream:
Dip the gelatin in the ice water for 10 minutes.
Mix sugar, grapefruit juice, grapefruit zest and vanilla and eggs.
Cook in a double boiler, whisking until the temperature reaches 83°C. Press the gelatin and add it to the cream.
Cool to 50 0 C with a blender and stir in the butter until emulsified and add the bitter grapefruit drops. Pass through the stamen and cool.
Using a blender, give a light, fuzzy cream look.
Place in a socket pocket with a 0.6 cm socket and refrigerate.
Recipe for the orange shortbread crumble:
Preheat the oven to 180 0 C.
Mix all the ingredients using a hook to the mixer.
Mix at medium speed until the butter is completely incorporated but the dough looks like a crumble.
Place on a sheet of paper and cook the crumble for 10 minutes.
Remove from oven and break into small pieces.
Return to the oven and cook until light brown for another 10 minutes.
Cool to temperature.
Finish and training:
Cut the Tropézienne pies in half in width.
Sprinkle the lid of the pie dough with Bardouin pastis. Garnish the bottom of each Tropézienne pie with grapefruit cream and cover with the lid.
Polish again with Bardouin pastis syrup.
Garnish the top with 2.5 g of orange shortbread crumble and add a pinch of fennel seeds.
© photo : Philippe Labbé
 
Related products

70 cl - 45°
Pastis with a unique character: mixed from more than 65 plants and spices, it is powerful and aromatic on the palate.
Only available in France