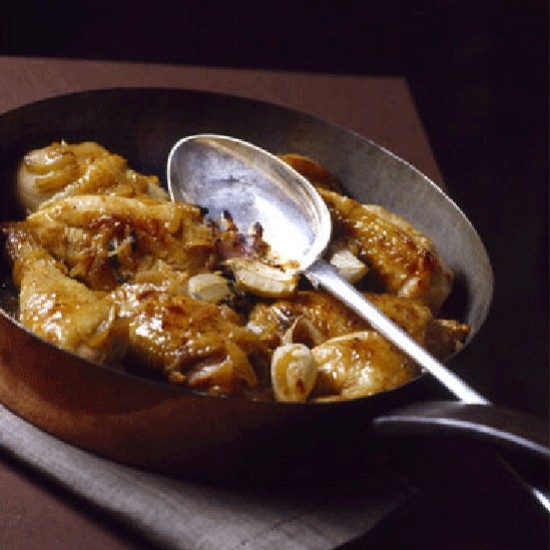 Turkey fricassée with wild basil (pèbre d'ail) and Farigoule de Forcalquier liqueur
Ingredients
Serves 10
•    1.8 kg of diced turkey
•    2 liters of olive oil
•    1.5 kg of shallots
•    7 liters of veal stock
•    200 g garlic
•    3 liters of white wine
•    200 g of plain flour
•    Chevril
•    Salt, pepper, bayleaf, thyme, tomato (finely diced), parsley
•    40 g of wild basil
•    300 ml of Farigoule de Forcalquier liqueur
Preparation
Recipe offered by the cooks at the colleges of the Académie d'Aix-Marseille
during the "Semaine du goût" (Taste Week).
Infuse the wild basil in the veal stock over a very low heat for 10 mins.
Pass through a fine sieve and set aside.
Brown the turkey meat in the olive oil and set aside.
Caramelise the cooking juices and flambé with the Farigoule de Forcalquier.
Reduce the white wine.
Sprinkle the flour over the turkey then add the white wine reduction, veal stock, chopped garlic, bay leaf, thyme, salt and pepper.
Cook on a high heat until it just reaches the boil then cook for 45 mins on a gentle heat.
To serve, scatter with chevril, parsley and finely diced tomato.
 
 © photo : Adode Stock - FOODMicro
Related products

Farigoule of Forcalquier, thyme liqueur
50 cl - 40°

This liqueur, characteristic of Haute Provence, is produced with wild thyme, a rustic and rebellious plant, harvested at the beginning of springtime, a time when our whole region is scented by this "simple"perfume. This characteristic digestif is testament to time-old tradition and regional soils, thanks ti its delightful garrigue perfume!