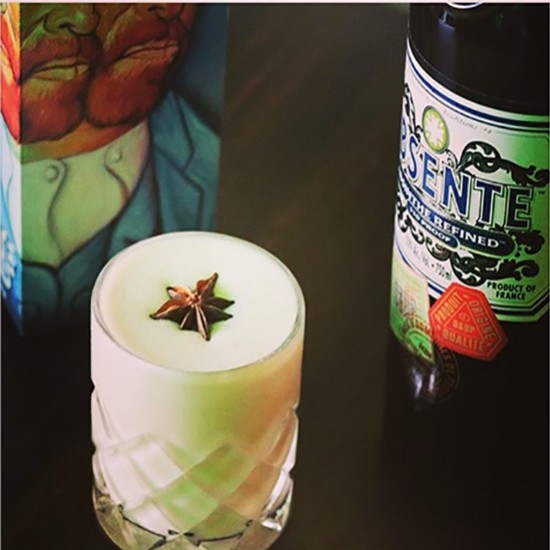 Van Gogh's Downfall @ Mickael Dwyer
The Drink :
Two of the four ingredients are homemade. You could buy one of them in a store but the drink really is the best with homemade ingredients. It takes a bit of work but it's worth it. I think it's the best cocktail I've ever made!
Ingredients :
1 & 1/2 oz (45ml) Absente
1 & 1/2 oz (45ml) orgeat liqueur (homemade)
1 & 1/4 oz (35ml) lemon rind, star anise and clove syrup (homemade)
1 & 1/2 oz (45ml) fresh lemon juice
Star anise for garnish
Preparation :
Combine the Absente, orgeat liqueur, lemon rind star anise and clove syrup, and fresh lemon juice in a shaker and shake with ice. Strain into a chilled rocks glass. Garnish with a star anise. Glass used : I usually serve the drink in a chilled Yarai Rocks Glass. You could also use a chilled coupe glass.
How to make the Orgeat Liqueur :
500g whole raw almonds
12 (3L) cups of water, divided
1/2 cup (100g) of granulated sugar
1 oz (30ml) orange blossom water
100ml of vodka
Soak the almonds in 1.5 l of water for an hour. Then, strain the water off of the almonds. Combine the remaining 1.5 l of water with the almonds and blend in a blender. Pour into a bowl and let sit for 2 hours, stirring occasionally. Then, using a fine mesh sieve, strain the blended almonds into a bowl, keeping the almond milk. Discard the leftover almond paste. Add the sugar, orange blossom water, and vodka to the almond milk and stir to combine.
How to make the Lemon Rind, Star Anise and Clove Syrup :
4 cups (1 L) of water
2 cups (400g) of granulated sugar
38g whole cloves
25g star anise
Rind of 1 lemon
Combine all ingredients in a sauce pan and bring to a boil. Let simmer for 10 minutes. Set pan aside and allow to cool. Once cool, use a fine mesh sieve to separate the leftover ingredients from the syrup.
Story of the drink :
Van Gogh is a widely known to prefer absinthe as his go-to drink. It is rumoured that he cut his ear off while "chasing the green fairy", the fabled hallucinogenic high of drinking absinthe. Therefore, an absinthe based cocktail as good as this one would surely lead to his downfall.
Tasting Notes :
At first taste, the Van Gogh's Downfall is a brief, complex dance between sharp lemon and spicy clove. The duo is quickly replaced as the bold anise and Absinthe step in and take the lead, wrapped up in the velvety texture of the orgeat.
Description of Higher Grounds Cafe and Cellar Bar :
Higher Grounds Café and Cellar Bar is in North Sydney, Cape Breton, Nova Scotia, Canada. Located in one of the world's first branches of the Bank of Nova Scotia, this historic and cozy café by day turns into a speakeasy-style cocktail bar by night. Whether you're looking for a classic cocktail or wanting to try something new, you'll always have a great experience at our place.
Credits cocktail :
Also, I should mention that I got the recipe for the cocktail from the Barchef Cocktail Book. Barchef is also a bar in Toronto, Canada. Here is their website. http://www.barcheftoronto.com/ . I'm not sure if they own any sort of rights on the cocktail, but it might be worth mentioning them. I'll leave that at your discretion.
Crédit photo : 
Mickael Dwyer @thebartendingaccountant
https://www.instagram.com/thebartendingaccountant/
Bar :Higher ground cafe and cellar bar
https://www.facebook.com/pg/highergroundsnorthsydney/about/?ref=page_internal
Related products

55°- 70 cl
Absinthe is  very characteristic. This is a clever blend of absinthe, artemisia, green anise and balm : delicate, sweet and slightly spiced.