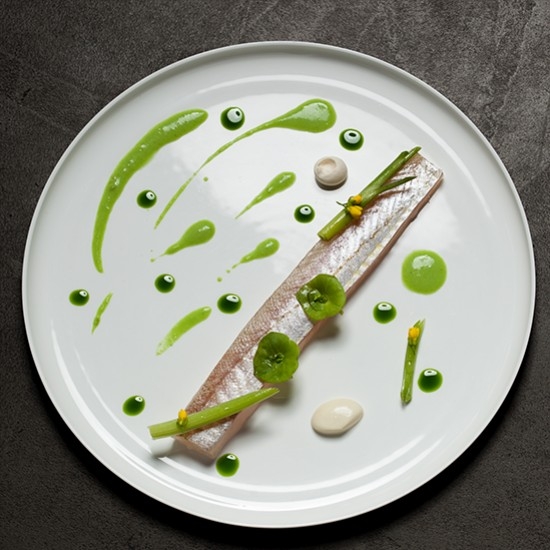 Whiting - Pastis - Fennel by David Toutain
For 4 people
Ingredients:
1 whiting of 250g
Olive oil
Peanut oil
1 lemon
1 licorice stick
Flower of salt
1 spoon of salted butter
5g of fresh cream
2 shrimps
2 fennels
4 sprouts of fennel
A few drops of pastis Henri Bardouin
Preparation:
Whiting:
Scale and lift the nets, remove the edges. Cook this poached in a smoke at 60 ° C during 2m30. Let it rest a few minutes and cut each fillet in half lengthwise. Polish with olive oil and season with fleur de sel.
Fennel :
Fennel oil: pick up the top of the fennel (dill), whiten and mix hot with the same amount of peanut oil. Filter and book cool.
Green fennel puree: Separate the green from the white of the fennel. Cook the green with steam and mix with water and a few drops of lemon juice and fleur de sel. Filter.
White fennel puree:
Cook the short white with a liquorice stick and a few drops of pastis. Once cooked remove the stick and mix with a spoon of salted butter. Filter.
Fennel sprouts: wash and glaze them with salted butter and a few drops of pastis.
Shrimps:
Shrimp cream: make a shrimp juice, reduce it then add the cream. Mix everything.
© photo : Thai Toutain
Related products

70 cl - 45°
Pastis with a unique character: mixed from more than 65 plants and spices, it is powerful and aromatic on the palate.
Only available in France