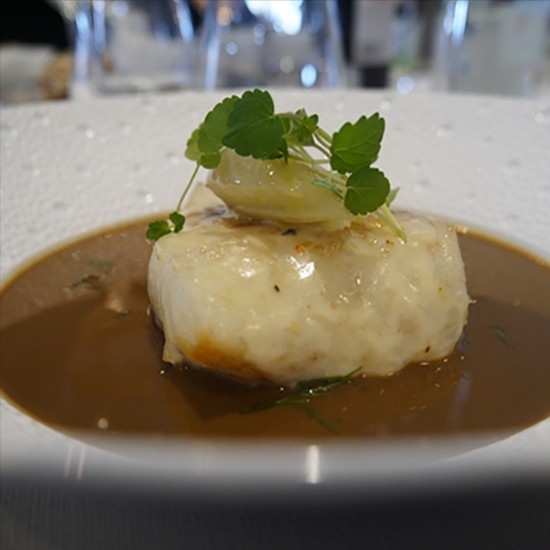 Wild Turbot Basing Blanquette of fennel in the Pastis HB by Ludovic Turac
For 8 people
Ingredients 
• 1 Turbot of 4 KG, the edges of the turbot 
• 4 fennel · 20 cl of Pastis Henri Bardouin 
• 20 gr of flour 
• 20 gr of butter 
• 20 cl of single cream 
• 5 cl of olive oil 
• 3 gr of agar-agar 
• Salt, peppers
Preparation 
1. The broth of fennel: take a fennel, slice thinly him and put him in some cold water. Boil. When the water kicks, to cut the fire and let infuse 20 minutes. Leak out. 
2. The purée of fennel: take of the fennel bulb, slice thinly him and get back him. Deglaze in the Pastis Henri Bardouin and wet some broth of fennel. When it is cooked, to add 20 cl of cream, make reduce almost dry and mix. Taste and season.
3. The frost of fennel: cross 2 fennel in the juice extractor. Get back the water, boil her then cross it in the fine linen. Add 3 gr of agar-agar for 3 liters. 
4. The consommé: take the edges of turbot, put them in the water at height with an aromatic side dish to realize one smoked by classic fish. When that manages at boiling, to lower the fire, to let cook 30 minutes and leak out. Taste and season. 
5. The blanquette: take some purée of fennel and relax her in the smoked. Prepare a red-haired person by making reduce almost dry 10 cl of Pastis Henri Bardouin, add 20 gr of butter then 20 gr of flour and make thicken. Taste and season.
6. The turbot: cross the fish in the frying pan with a dash of olive oil. When it is semi-cooked, to coat it some sauce of blanquette and let rest a little before raising(drawing up).
7. The training: pour the frost of fennel at the bottom of the plate. Arrange everything around the plate a little dill to call back(to remind) the aniseed side. Put down the turbot with the purée. Water with the sauce of the blanquette.

 Ludovic Turac - Une table au sud - Marseille
Related products

70 cl - 45°
Pastis with a unique character: mixed from more than 65 plants and spices, it is powerful and aromatic on the palate.
Only available in France